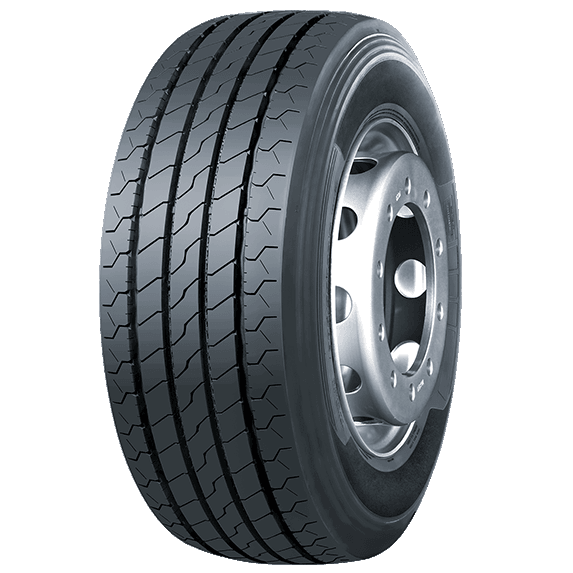 Westlake WTL1
LONG HAUL(LONG RUN)
New wide base trailer tyre with WESTLAKE's latest technology for long haul application.
5-Rib tread design enhances longer mileage.
Computer designed tyre structure provides excellent footprint profile and ensures superior comfort and even wear.
Special tread compound guarantees less fuel consumption with lower rolling resistance.
Stone ejectors in U-shape grooves minimize the stone holding and penetration.
Description
Product Size Range
Additional information
Description
SIZE
SERVICE
INDEX
Fuel
Efficiency
Wet
Traction
Noise
NOISE(dB)
445/45R19.5
160L
C
C
2
73
435/50R19.5
160J
D
C
2
73
385/55R22.5
160K(158L)
C
C
2
71
385/65R22.5
158L(160K)
C
C
2
71
Tyre Size
Dimension Of Regroove
Depth(D)
Width(W)
445/45 R 19.5
2.3mm
7.0mm
435/50 R 19.5
2.3mm
7.0mm
385/55 R 22.5
2.3mm
7.0mm
385/65 R 22.5
2.3mm
7.0mm
Size
Load Index
(Additional Load)
Overall Width
(mm)
Overall Diameter
(mm)
Loaded Radius
(mm)
Rolling(mm)
Circ.±2%
Measuring Rim
(inch)
Opt.Rim
(inch)
Fuel
Efficiency
Wet
Traction
Noise
Noise(dB)
Single/Dual
Load Capacity(KG) At Relative Air Pressure(kPA/Bar/PSI)
450
475
500
525
550
575
600
625
650
675
700
725
750
775
800
825
850
875
900
925
950
4.50
4.75
5.00
5.25
5.50
5.75
6.00
6.25
6.50
6.75
7.00
7.25
7.50
7.75
8.00
8.25
8.50
8.75
9.00
9.25
9.50
66
69
73
77
80
84
87
91
95
98
102
106
109
113
116
120
124
127
131
135
138
445/45R19.5
160L
442
893
430
2706
15.00
14.00
C
C
2
73
S
6940
7140
7320
7520
7700
7880
8060
8260
8420
8600
8780
9000
435/50R19.5
160J
438
931
437
2821
14.00
15.00
D
C
2
73
S
6520
6720
6940
7140
7360
7560
7780
7980
8180
8400
8600
8800
9000
385/55R22.5
160K(158L)
386
996
464
3018
12.25
11.75
C
C
2
71
S(160K)
6200
6430
6670
6900
7140
7370
7600
7830
8070
8300
8500
8770
9000
385/65R22.5
158L(160K)
387
1072
494
3248
11.75
12.25
C
C
2
71
S(158L)
6000
6250
6500
6750
7000
7250
7500
7750
8000
8250
8500
Additional information
| | |
| --- | --- |
| Brand | Westlake |
| Brand Category | Westlake Long Haul |
| Rim Size | 19.5", 22.5" |
| Vehicle Types | Trucks & Buses |
| Size | 385/55R22.5, 385/65R22.5, 435/50R19.5, 445/45R19.5 |